Covid-19: training and information course for health workers and the public.
published on

27/04/2020

updated on

30/04/2020
In order to effectively face the current Coronavirus pandemic, and to spread the fundamental behavioural indications given by the scientific community, the SItI -Società Italiana di Igiene, Medicina Preventiva e Sanità Pubblica (Italian Society of Hygiene, Preventive Medicine and Public Health) - in collaboration with SANITANOVA, has devised an immediate and concise training / information course for healthcare professionals and the general public.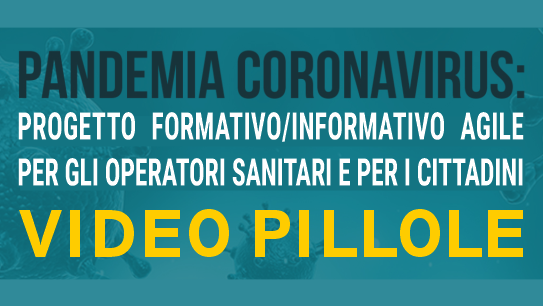 Or else go directly to the sections of interest below (the titles in red are those already available), which will be fully integrated in the coming weeks.
INTRODUCTION
BEHAVIOURAL GUIDELINES FOR THE GENERAL PUBLIC
Between words and actions, healthcare the time of Covid-19
BEHAVIOURAL GUIDELINES FOR THE ELDERLY
Indications regarding physiotherapy for the elderly
BEHAVIORAL GUIDELINES IN THE CASE OF POSITIVE PATIENTS
SETTING UP A COVID-19 WARD
CONDUCTING AN EPIDEMIOLOGICAL INVESTIGATION
DIAGNOSING INFECTION AND CARRYING OUT SWAB TESTS
How to carry out diagnostic swab testing
PROVIDING CARE TO AN INFECTED PATIENT
BEHAVIOURAL RULES FOR HEALTHCARE PROFESSIONALS
Donning and doffing: indications for health workers exposed to the risk of Covid-19
EMERGENCY MANAGEMENT AND ACCESS PROTOCOLS
How to manage a 112 call
Access to the emergency room and access operating protocols
MANAGEMENT OF THE INTENSIVE CARE PATIENT
Management of the patient in intensive care
Intensive care unit: a day on the frontline
Never as in this period has the Latin motto of the SItI (Rerum Cognoscere Causas) called for specialists, researchers, doctors and health workers to commit themselves, also by collaborating and disseminating knowledge and accurate information, to assist everyone to overcome this serious emergency for world health.
---